Experience the art of sound with Radius Drums handmade snare drums! Our drums are crafted with precision and care, giving you a unique and timeless sound that will last for years to come. Whether you're a drummer playing live shows or a professional in the studio looking for a superior sound, our snare drums are the perfect choice for you. Get ready to experience the highest quality sound.
Shop now and hear the difference!
Shop our current catalog of snare drums
Radius Drums Customer Reviews
"I just received my custom built 13″ Birch Stave Piccolo Snare. Kenny & crew knocked it out of the park. What a positive experience. Kenny was so patient throughout the design process and built this drum exactly to my specs & preferences."-Shaun S.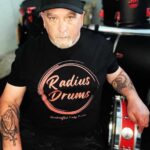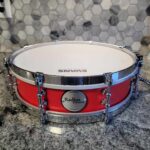 "I have it rigged up and have been playing it for a week or so and it's genuinely awesome. It is a notably different feel to me. I've not played a stave snare drum before. The tones seem so clean & she is so responsive. Mostly had it tuned slightly higher but it seems to be like a sweet spot or something. I love this beast"-Scott C.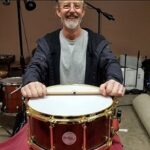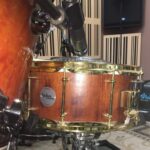 "I hired Radius Drums to build a snare for me. From conception to completion it took one month. Could not be happier with the results. The snare was built from oak with a walnut horizontal accent and it looks spectacular. The tone is exactly what I was looking for and the build quality rivals that of any nicer production snare I have played. From beginner to expert I would absolutely recommend Radius Drums to anyone." -Mason R.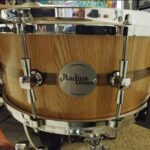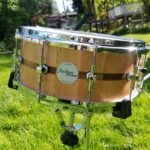 "I requested and received a beautifully executed maple/walnut snare. Was shocked on the turn around time of the custom piece. I supplied the hardware and it was expertly installed on the custom shell."  -Aaron N.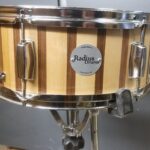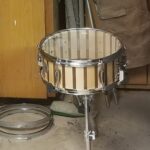 "Love my Radius drum set. Truly a piece of art. I love knowing I own something that was created with an ear for sound and with an eye for detail." -Chris P.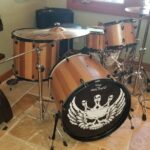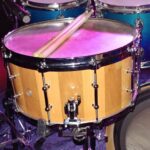 With carefully chosen hardwood combinations our unique snare drums are brought to life. As a result each snare has its own rich characteristics. All of our drums are handmade with great care in Port Orchard, WA  USA.   These snare drums are finished with multiple protective coats of lacquer on the outside but, the interior and bearing edges are left raw resulting in the purest reflection of each wood's specific tonal qualities.
Why Stave Drums?
Our snare drum shells are made from strips of solid wood called staves, placed vertically in the same way a barrel is made. It's then turned round on the outside and inside. This is a much different method than most of the drum shells out there that use multiple horizontal layers of plywood. Typically a plywood shell is constructed by layering multiple thin sheets of wood with glue applied between each ply.  Conversely, a stave shell is made from solid wood pieces glued vertically in its natural state.
By constructing solid wood shells in this fashion it eliminates the deadening effect that multiple layers of glue can cause. Another positive is having the bearing edges placed on the end grain which allows for a maximum transfer of energy down and through the wood fibers. The advantages can be clearly heard in the natural resonance and projection stave shells produce.
Radius Drums, Radius Drums, Radius Drums, Radius Drums, Radius Drums, Radius Drums Snare